3 Reasons My Labrador Digs this Dog Hammock for the Car | A Tail-Waggingly Good Ride 
This post contains links to affiliate websites, such as Amazon, and we receive an affiliate commission for any purchases made by you using these links. We appreciate your support!
If you have a large dog or multiple dogs that like to go on car rides with you or just to the vet, then chances are you've been in the same situation as me. What is the best way to keep your pup comfortable and secure during your travels and keep the flying fur to a minimum? The answer I found – a dog hammock for the car! It provides comfort and security for my Labrador, but also convenience and practicality. In this blog post, I will share three reasons why I love the dog hammock for my car so much – covering installation, versatility, and ease of use! Get ready to learn everything you need to find that perfect travel companion for you and your pup!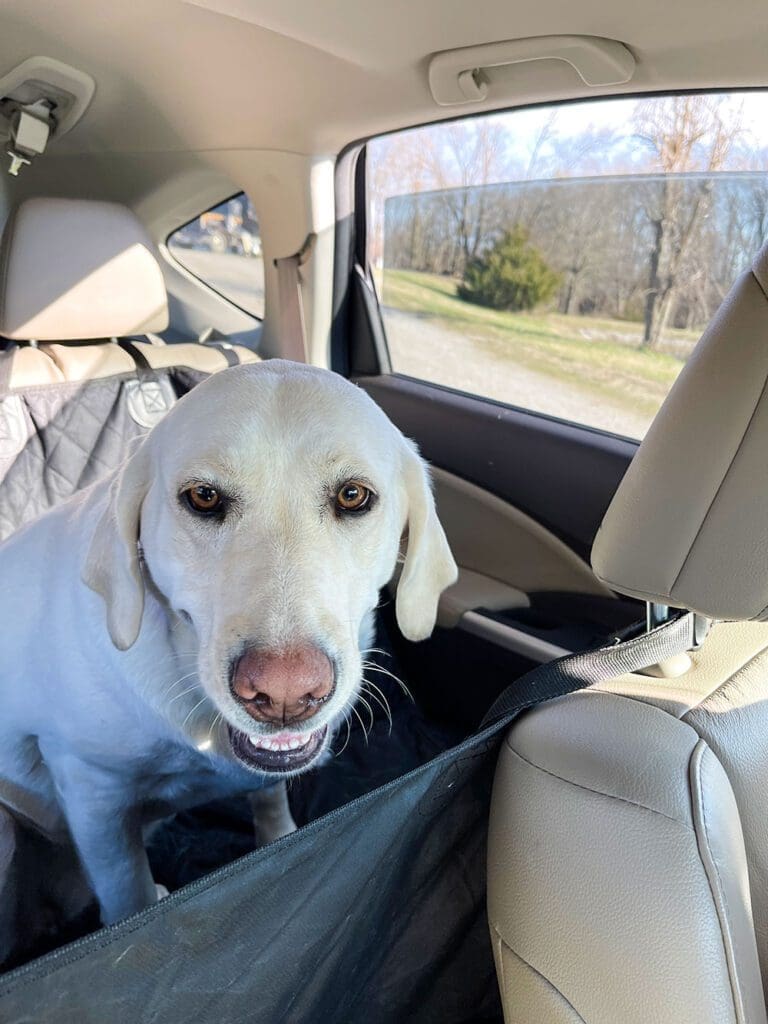 Easy Installation – The hammock has a very easy installation process that takes no time.
Before finding a dog hammock for the car (or, in our case, an SUV), we used to put down the seats and put our dogs in the cargo area. Let me tell ya that is not an ideal situation. Not only would it stress out our dogs because it wasn't a very secure way to travel, but It would also stress me out big time! Instead of spreading out a big blanket across the cargo area, I can install this nifty dog hammock in less than 3 minutes.
This dog hammock for the back seat uses easy-to-install buckles that secure around the two front headrests and the two back headrests. So you won't have to spend hours figuring out how to set it up. It has a non-slip rubber backing keeps the hammock from slipping and provides a waterproof barrier between your pup and the seat (in case of accidents or excessive drool)! You'll love the convenience it offers, allowing you to focus on enjoying the ride with your furry best friend.
Comfortable for my Dog – My Labrador loves the space that the hammock provides, and it is super soft and comfy for her to rest in.
My sweet Labrador deserves the best, and this hammock is made from super soft materials and padding to cushion her body and give her the support she needs to rest comfortably throughout the ride. The hammock creates a cacoon that keeps my pup happy and relaxed.
Another bonus is the hammock keeps her from trying to jump in the front seat as it blocks that space entirely. In my opinion, this is a fantastic safety feature (however, I still get the occasional head on my shoulder!).
Keeps the Car Clean – The hammock helps keep the car clean by catching any dirt or mud that may come off her paws while traveling in the car.
Traveling with your furry friend can be fun, but it can also be a messy affair. Fortunately, this handy, dandy dog hammock for the back seat solves the problem of dirty paws and flying fur. This nifty contraption provides a comfortable spot for your pup to ride and catches any dirt or mud that may come off her paws during the journey. All that fur is contained in the hammock and is easily vacuumed off later. The result? A cleaner car and a happier owner. With a dog hammock for the back seat, you can worry less about messes and focus more on enjoying the ride with your furry companion.
We can all agree that our furry friends are worth pampering and caring for with special love and care. If you want to give your pup the best car-travel experience possible, investing in a quality dog hammock like this one is the way to go! Not only will they get an extra comfy spot in the car, but it also helps keep the areas clean and safe from dirt or mud coming in and out of the vehicle. This easy-to-install hammock does it all for both you and your pup! So if you're looking for a great way to make travel a breeze, try this hammock! What kind of dog(s) do you have, and how do you transport them? Let us know in the comments below. And don't forget to check out our other pet posts here!