One Haunting Stroll in a City Built on the Dead – My Savannah Ghost Tour
Of the several fun things to do in Savannah, Georgia, the one activity we were dying (no pun intended) to do in Savannah was a Ghost Tour. I mean, flip on the travel channel anytime around Halloween. Savannah always tops the list as one of "America's Most Haunted Cities." So, I looked at the weather, found a night when it would be just the right temperature for a creepy walk around the city, and booked a tour with the Blue Orb Savannah Ghost Tours.
What Makes Savannah Extra Spooky?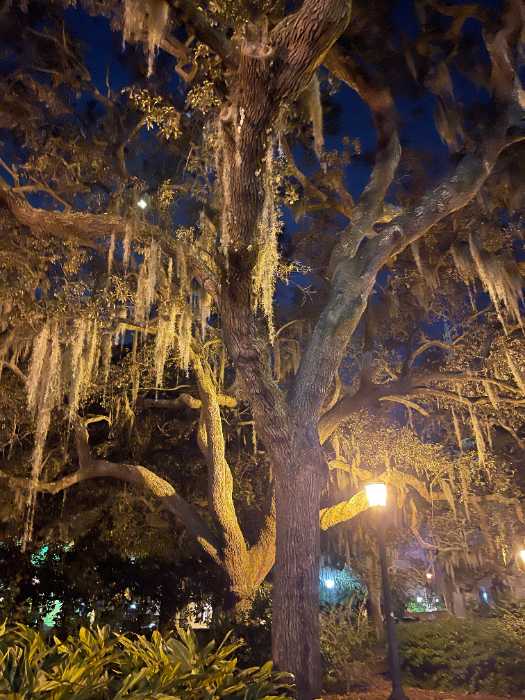 Savannah is often considered one of the most haunted cities in America. And it's no wonder when you consider that the city is built on top of forgotten graveyards. In the 18th and 19th centuries, disease (such as yellow fever) was rampant in Savannah, and death was common. Burial grounds filled quickly, and new ones were constantly established. As the city grew, residents forgot these graveyards, and the city was built on top of them. Today, many of Savannah's residents believe that the spirits of the city's dead still wander its streets. Some say that you can even hear their voices emanating from the graves. Whether or not you believe in ghosts, there's no denying that Savannah has a haunted history.
Best Ghost Tour in Savannah Georgia
While there are many ghost tours available in the city, I believe we booked the best ghost tour in Savannah, Georgia. We bought tickets to the Uncensored Zombie Night-Time Walking Ghost Tour of Savannah for ages 18+ for $35 per person. The tour met at 10 p.m; in the center of Chippewa Square in front of the Oglethorpe Monument.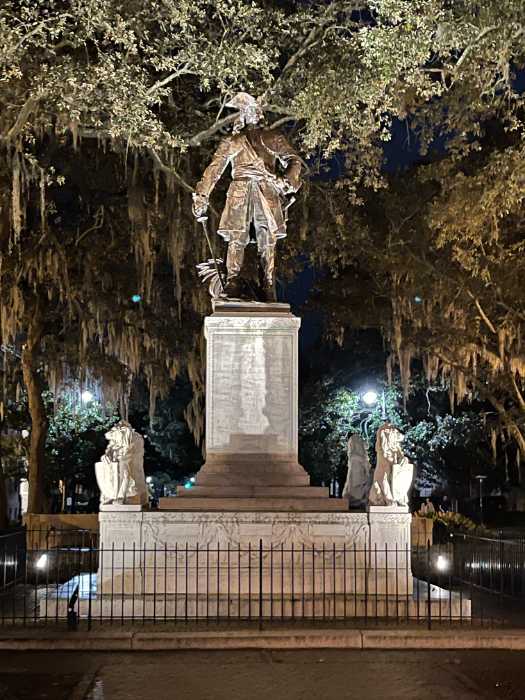 Parking was a breeze. My niece and I maneuvered our rented Ford Edge into a parking spot right at Chippewa Square around 9:15 (super excited to see parking was free after 8 p.m). The mood in the city was a little eerie at this time of night. One look up at the Spanish moss hanging from the giant live oaks felt other-worldly. Lots of businesses had already closed up for the evening. But we found Franklin's on Liberty Street open to snag a coffee and a quick trip to the restroom. And we promptly headed back to General Oglethorpe's monument to wait for our guide.
Why Go on a Ghost Tour?
I have been on ghost tours all over the country. Overall, I find them fun, not scary (generally), and a way to gain a new perspective on a popular destination. Plus, you usually do a fair bit of walking, which fits right in with getting in my daily step count. This particular tour did not disappoint.
Our guide, Adam, came strolling up and immediately put everyone at ease with a few jokes. He warned us there were no bathrooms or bar breaks along the route. And that we would need to be quiet, stay a respectful distance away from the private homes and not peek into any windows. We all agreed, and off we went.
The Haunts We Visited
The ghost tour in downtown Savannah lasted about two hours. We visited several spooky locations and heard quite a few macabre stories. Often, Adam would whip out his iPad and show us actual videos or photos of specters captured by patrons of ghost tours on the sites we were visiting. Undeniably, a few places stood out, which I am happy to point out below.
Colonial Park Cemetery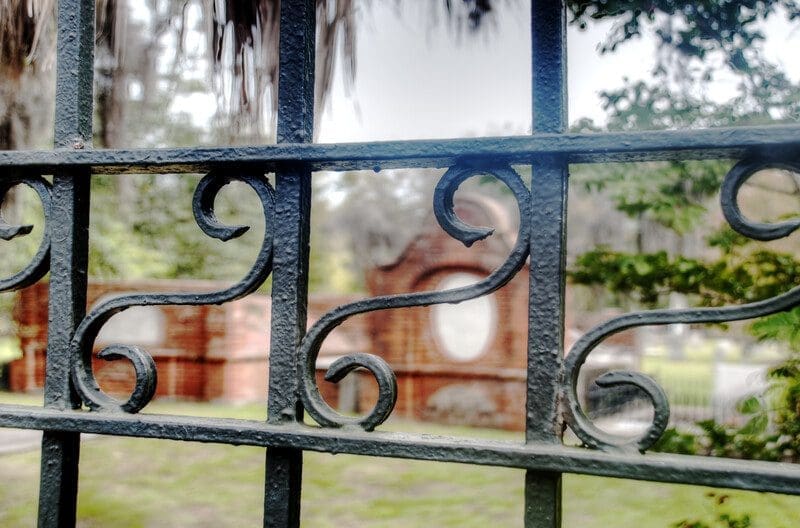 Colonial Park Cemetery in Savannah, Georgia, is rich in history and home to numerous hauntings. The cemetery dates back to 1750 and is the final resting place for many notable figures, including Revolutionary War hero Casimir Pulaski and Colonial governor James Edward Oglethorpe. Today, the cemetery is a popular tourist destination, and visitors often report seeing ghosts, hearing strange noises, and feeling an eerie presence. While some say spirits of the slaves buried there during the Colonial era haunt the cemetery, others believe that the ghosts of Civil War soldiers still roam the grounds. Whatever the source of the hauntings, there is no denying that Colonial Park Cemetery is one of the most unique and fascinating places in Savannah.
Sorrel-Weed House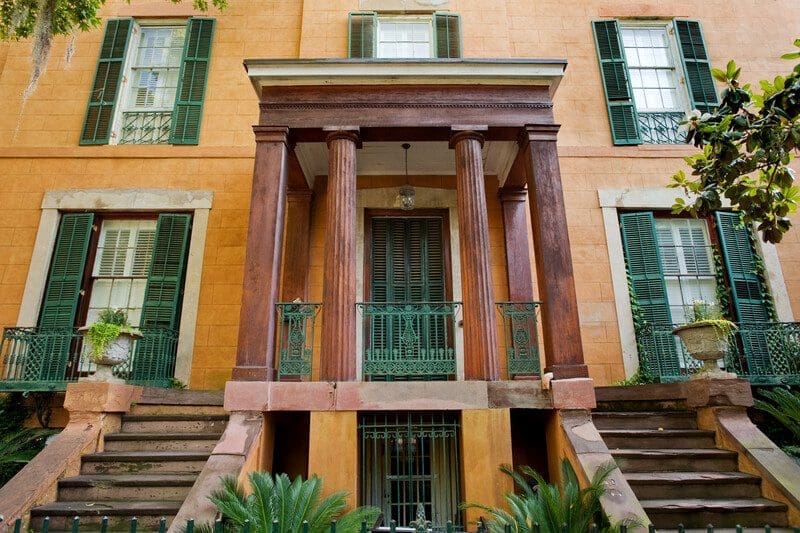 The beautiful Sorrel-Weed House is one of Savannah, Georgia's most well-known and popular homes. Many say it is one of the most Haunted places in the city. Francis Sorrel built the home in 1820. Sorrel was a successful businessman who made his fortune in the shipping industry. He was also a plantation owner and slave trader. The exterior is a prime example of Greek Revival architecture. The house has a central hall with a grand staircase and four large columned porticoes.
Originally located on Monterey Square, the home moved to its current location on Charleston Square in 1955. The ghost of Sorrel's daughter, Harriet, evidently haunts this house. Harriet died at the age of 18 from pneumonia. Her ghost roams the staircase and her former bedroom. Also, there have been reports of objects moving on their own, doors slamming, and disembodied voices. Sorrel's wife, Frances, also died in the house from tuberculosis. Many folks report seeing her ghost in the house as well. Some report a man dressed in period clothing roaming the halls of the house. Could this be the ghost of Sorrel himself?
Mercer Williams House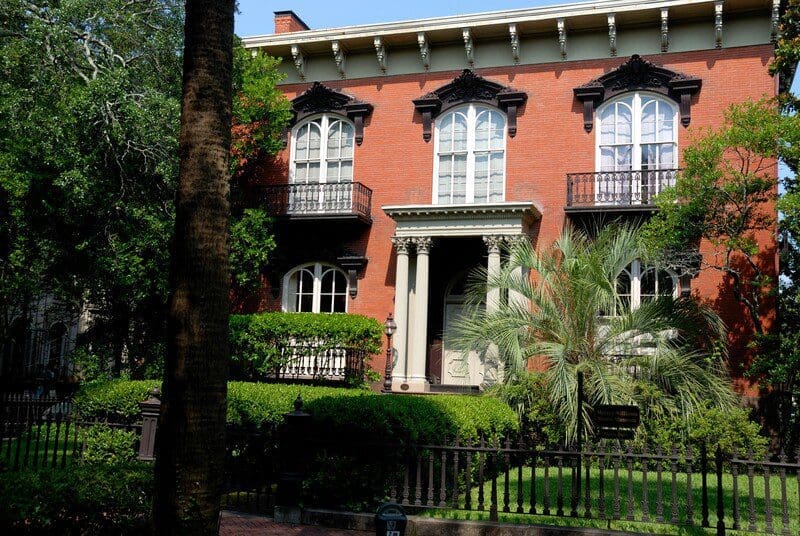 Finally, the Mercer-Williams House is a historic mansion in Savannah, Georgia, that has been the site of many deaths, both accidental and otherwise. Architect, John Mercer, built the house in 1868, and Jim Williams purchased the home in 1969. Williams was an antiques dealer and restorationist who restored the house to its former glory. He also filled it with antiques and works of art. In 1981, Williams shot and killed his assistant Danny Hansford in the Mercer House. Williams claimed it was self-defense, but he was convicted of murder and sentenced to life in prison. He was later acquitted on appeal. The Mercer House has been featured in many books and movies, including Midnight in the Garden of Good and Evil and The Legend of Bagger Vance. It is said to be haunted by the ghosts of Williams and other individuals who have died within its walls.
If you're looking for a spooky and fascinating experience, check out one of Savannah's Ghost Tours. These tours offer a unique glimpse into some of the city's most haunted locations and the ghosts that haunt them. Whether you believe in ghosts or not, these tours will surely leave you with a memorable experience. Do you have any spooky experiences from a ghost tour you've been on? If so, do share in the comments! If you are looking for more history on hauntings in Savannah, you can check out this book, Historic Haunts of Savannah.