Stevie Nicks On Tour in Louisville: A Night of Mystical Music and Iconic Capes
My daughter and I adore Stevie Nicks' music. It's powerful, passionate, and timeless. We have had the good fortune to see Stevie Nicks on tour in St. Louis, MO with Fleetwood Mac in 2018, and solo in St. Charles, MO in 2017. So, when we heard she was touring again in 2023, we knew we had to score some tickets to the nearest city, which happened to be Louisville (Lou-Uh-Vull), KY, on June 27th.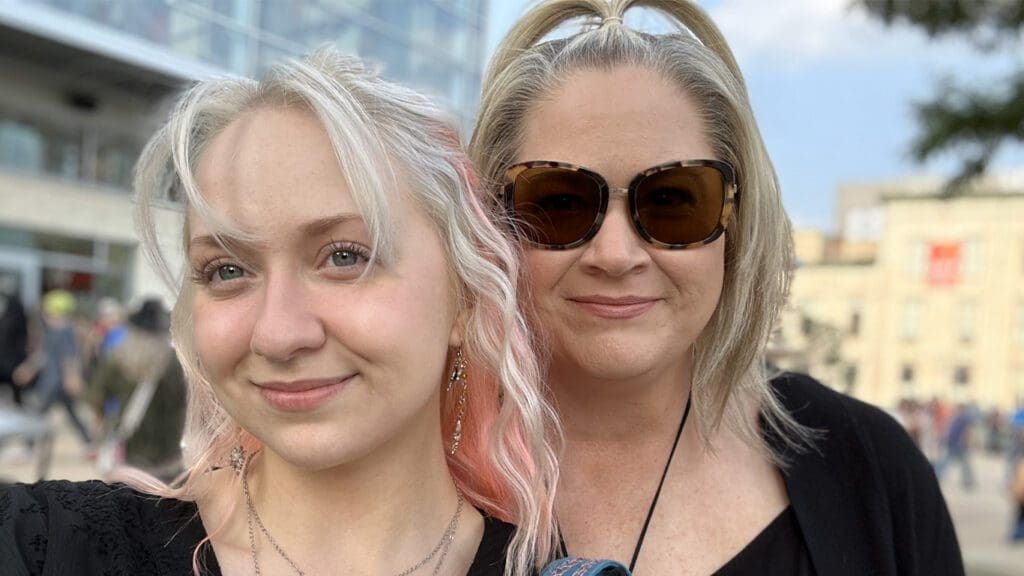 So, after a 4-hour road trip down I-64, we arrived to the Derby City and checked into the hotel across from the KFC Yum! Center. The downtown streets buzzed with Stevie fans dressed in head-to-toe layers of billowy chiffon, lace, and fringed capes. Emily and I quickly changed and headed to the venue to grab our merchandise, maybe some snacks (hello, giant Bavarian pretzel with spicy cheese), and secure our seats.
The Stories
Stevie is not only a gifted songwriter, but she also tells great stories to accompany some of her songs. For instance, to introduce "Gypsy," a song from Fleetwood Mac, Stevie told the origin story of her lyrics:
When she felt the fame of Fleetwood Mac was getting too much for her to center herself, she'd pull the mattress off her bed, adorn it with decorations (hence, some lace and paper flowers), and sit in the middle of it. She'd repeat to herself, "I am still Stevie." To remind herself she was still that gypsy she once was.
We heard lots of great stories like that. Which I always appreciate. It just is more personal and gives you insight into the artist and what they were thinking or experiencing at the time they wrote one of your favorite songs.
Stevie Nicks' Capes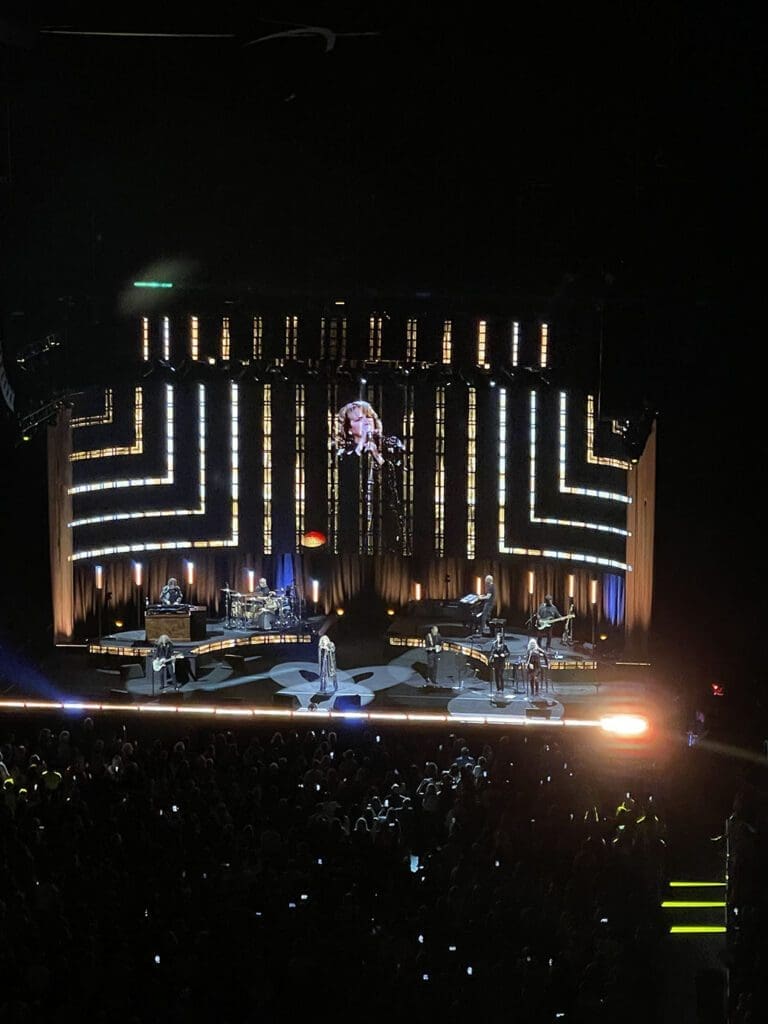 There are a few things you come to expect from a performance of Stevie Nicks on tour. A mystical, crystal-vision vibe playing on a gargantuan video screen, a phenomenal band and backup singers, Stevie's signature twirls and spins, and her epic transitions in between songs, often leaving the stage and returning a few minutes later adorning a new shawl or cape.
Stevie Nicks' capes and shawls are characters all their own, as evidenced at her Louisville show.
Her love for shawls and capes has become such an integral part of her show that she even has a "shawl vault" where she stores her favorite pieces. Her shawls come in various styles, colors, and materials, from bold sequined capes to elegant chiffon gowns. One of her most iconic pieces is the "Bella Donna" cape. This legacy piece was the original piece she was photographed in on the inside of her solo album; it is in "perfect shape," according to Stevie, and is often saved for special occasions on tour, making it an incredibly memorable part of her performance when it appears.
A new cape debuted at this show. Stevie put on a sparkly, gold, and black striped cape for the song "Stand Back," one of my favorite songs inspired by Prince's "Little Red Corvette," (you can hear her tell that story here). The cape blended in with the graphics on the big screen and was absolute disco-80s heaven to watch!
The Emotion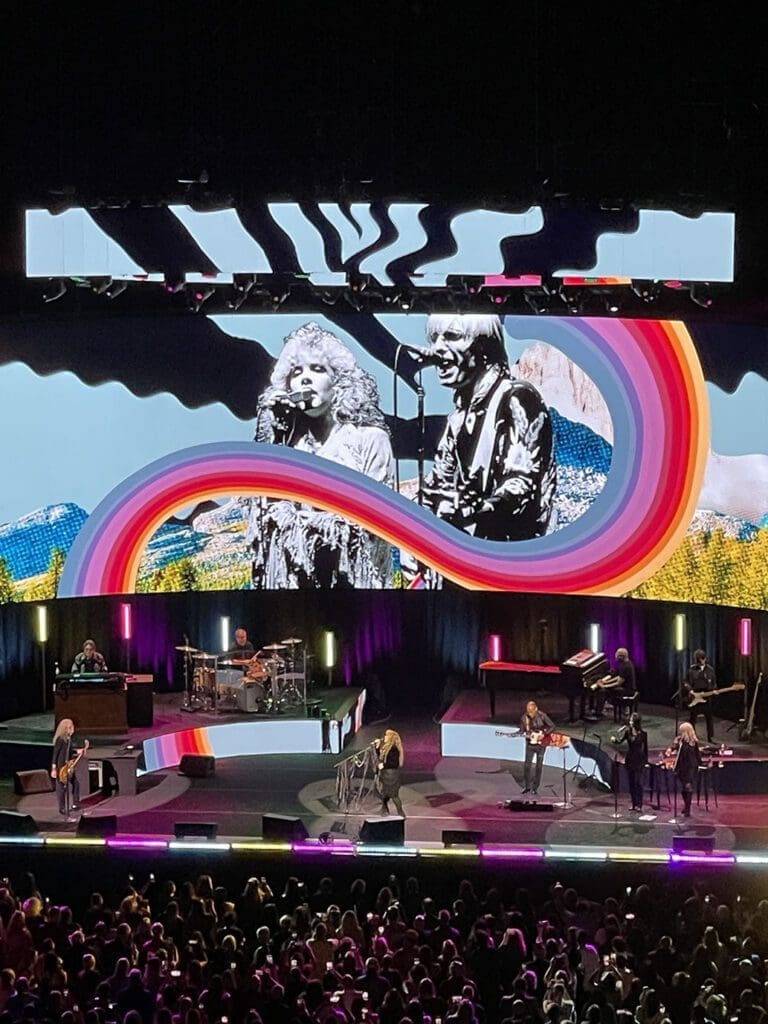 Throughout the show, you felt the emotional toll Stevie felt for the loss of friends, collaborators, and especially bandmate Christine McVie and friend Tom Petty.
Tom Petty's presence was felt throughout the concert in montages on the gigantic video screen behind the stage. The concert kicked off with the driving guitar riff of Petty's "Runnin' Down a Dream" while the musicians and Stevie made their way to their places on stage. Groovy, colorful images of him and Stevie (with wild 80's hair) floated through the backscreen during her and Petty's classic duet, "Stop Dragging My Heart Around," as well as on Stevie's cover of Petty's "Free Fallin." Stevie had wanted to be in Tom Petty and the Heartbreakers but was denied that chance because of Petty's steadfast rule of "no girls allowed" in the band. She settled on a close friendship that remained until his death.
I found myself tearing up several times during the concert. That sometimes happens to me when I listen to music. I get moved by the lyrics, melody, or just the entire experience in itself. But tears flowed openly during the last song of the night, "Landslide." A video montage of Christine McVie played in the background as Stevie sang. The whole sight was just gut-wrenching. Watching images of her and Christine smiling at each other, hugging each other, and laughing together made my heart break. The line in the song, "I've been afraid of changin', 'cause I've built my life around you," had never been more poignant or had more meaning. It was a touching tribute.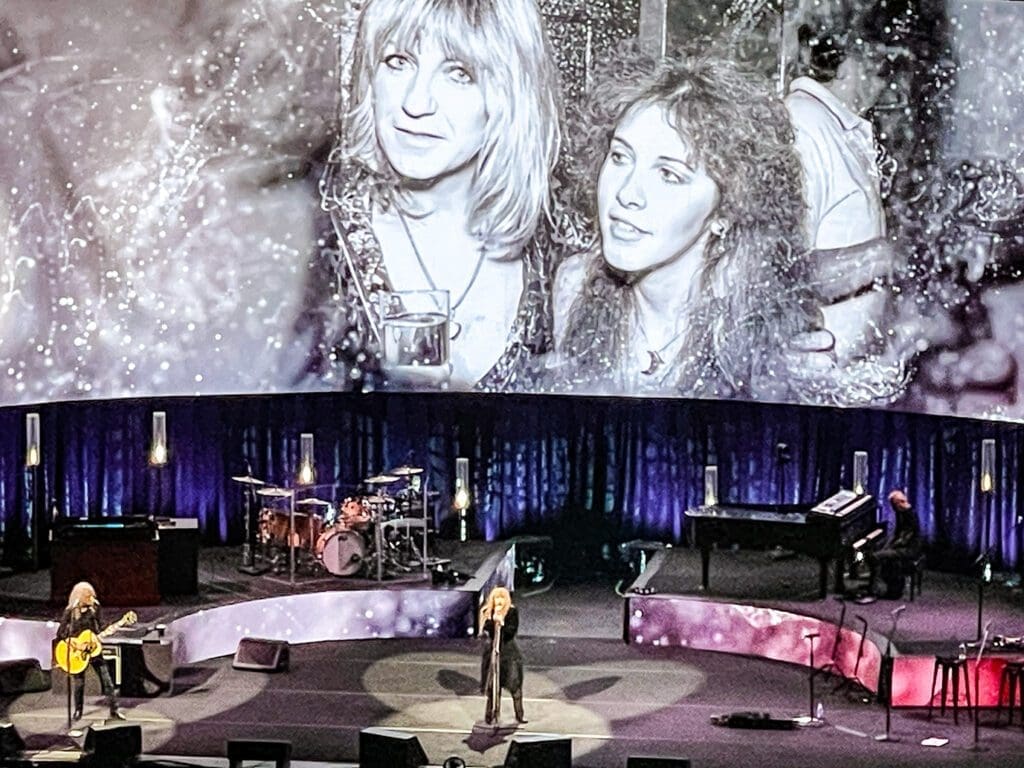 After the closing notes, the band gathered together, and Stevie explained that singing that song each night for us was helping her slowly heal from such a tragic loss. As we left, Emily and I saw many teary-eyed fans wiping their eyes.
Stevie Nicks' Setlist for Louisville 2023
Below was the setlist for the concert:
Runnin' Down a Dream (Tom Petty song)
Outside the Rain/Dreams (Fleetwood Mac song)
If Anyone Falls
Stop Draggin' My Heart Around (with Waddy Wachtel)
Fall From Grace
For What It's Worth (Buffalo Springfield cover)
Gypsy (Fleetwood Mac song)
Wild Heart
Bella Donna
Stand Back
Soldier's Angel
Gold Dust Woman (Fleetwood Mac song)
I Sing for the Things
Edge of Seventeen
Encore:
Free Fallin' (Tom Petty cover)
Rhiannon (Fleetwood Mac song)
Landslide (Fleetwood Mac song)
The Wrap Up
We finished the night feeling energized and inspired by Stevie Nicks and her music. Stevie was dynamic, and her fans absolutely adore her. After almost 50 years of performing, Stevie still knows how to put on a show. If you can catch Stevie Nicks on tour, don't miss it! It is a magical experience. What's your favorite Stevie song? Let us know in the comments 🙂